The safest most reliable belt conveyors in the market.
Ingeniería y Diseño desde el primer momento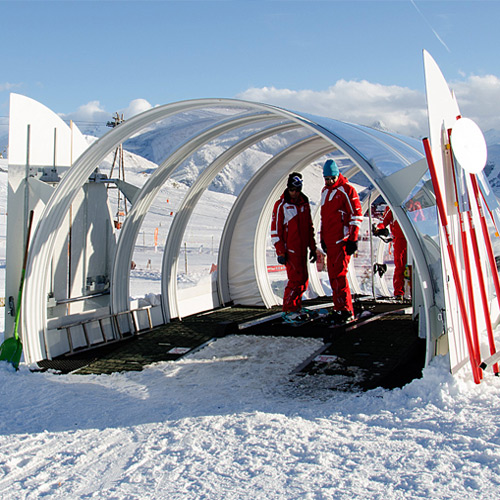 TUSA, belt conveyors manufacturer.
Transportadores Universales, S.A., hereon TUSA, is a company located in the polygon Malpica of Zaragoza, in the northeast area of Spain. It was formed as such in 1986, although it's been carrying out its activity for over 60 years.
It has operated in the sector of snow for over 20 years as an auxiliary workshop for Doppelmayr. Thanks to that, Tusa has known the demands and canons of quality of the sector, which added to the extensive experience of Tusa in the design and manufacturing of transporting belts has resulted in the development of lifts.
Main Advantages:
Comfortable access for all types of users.
Modular manufacturing; easily expandable equipment.
Equipment in operation under adverse weather conditions, ideal to maintain the stations open in the worst days.
Minimum civil work.
Minimum environmental impact.
Minimum maintenance required.
Safety sliding trapdoor installed in the landing of the belt, which detects any type of entrapment stopping the belt through an emergency stop.
Rescue trapdoor installed at the landing of the mat to quickly release a person trapped between the belt and the security trapdoor. On speed belts of 1,2m/s, this trapdoor is automatic.